Fucus Vesiculosus Extract
Dieser Extrakt ist aus dem getrockneten Thallus des Blasentangs und somit pflanzlicher Herkunft. Blasentang, welcher den Namen seinem Aussehen verdankt, wird schon seit Jahrhunderten medizinisch genutzt: Gegen Psoriasis (Schuppenflechte) und Cellulite.
In der Kosmetik wiederum macht er die Haut geschmeidig und glatt und hält sie in einem guten Allgemeinzustand. Der Blasentang-Extrakt kann ebenso die Elastizität der Haut verbessern und hautberuhigend wirken. Ähnlich wie Vitamin E drosselt er die Oxidation und schützt somit vor freien Radikalen. Ebenso besitzt er antibakterielle Eigenschaften.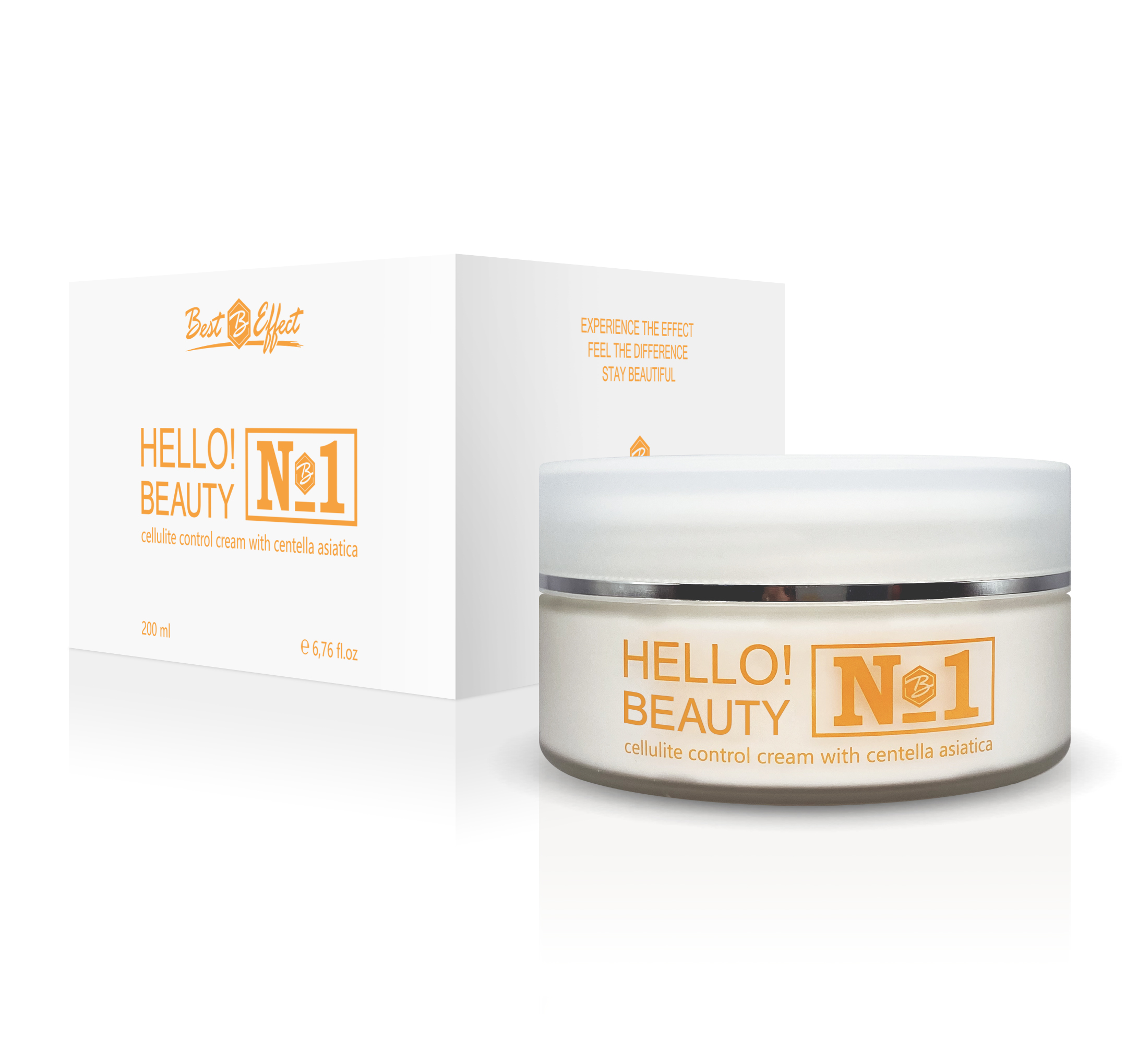 Hello!Beauty N1 cellulite control cream
Our Hello!Beauty N1 Cellulite Control Cream probably reveals the secret to beautiful, dent free and firm skin. The cream can also be applied to affected areas on the abdomen and arms.Centella asiatica in combination with caffeine extract, various high-quality essential oils, and much more provides a wonderful effect on your skin. This fantastic active ingredient complex can help to reduce existing skin imperfections and quickly improve the appearance of the skin.The contained caffeine extract can promote the breakdown of fat in the body and inhibit the storage of new fat deposits. Centella asiatica is known to increase blood circulation in the body. This can lead to a slight warming of the skin. Regular use of this cream can also improve microcirculation and activate the lymphatic flow.Our Hello!Beauty N1 Cellulite Control Cream is a fantastic circulation-enhancing body cream that can help to achieve a smoother and more even skin surface. With regular use, cellulite can be visibly reduced and the skin structure can be additionally strengthened.Application:Please apply a small amount of the cream on the cleansed, free from other lotions, oils, etc. with light circular movements in the direction of lymph flow. skin. It is best to tone your skin beforehand with our Hello! face tonic water. Please make sure to start with a small area, a body area. It can come to a slight redness, a heat development, a tingling on the skin. These sensations usually disappear within a few minutes.Key Facts:can firm the skin structurePromotes the blood circulation of affected areasIngredients:Aqua, Candelilla/Jojoba/Rice Bran Polyglyceryl-3 Esters (and) Glyceryl Stearate, Cetearyl Alcohol (and) Sodium Stearoyl Lactylate, Prunus Amygdalus Dulcis Oil, Triticum Vulgare Germ Oil, Glycerin, Caffeine, Hedera Helix Leaf Extract, Fucus Vesiculosus Extract, Centella Asiatica Extract, Humulus Lupulus Flower Extract, Aesculus Hippocastanum Seed Extract, Paullinia Cupana Seed Extract, Carnitine HCL, Escin, Tocopheryl Acetate, Cananga Odorata Flower Oil, Phenoxyethanol, Ethylhexylglycerin, Menthol, Methyl nicotinate, Linalool, Benzyl benzoate, Benzyl salicylate, Farnesol, Geraniol, Isoeugenol, Eugenol
Content: 200 ml (€54.95* / 100 ml)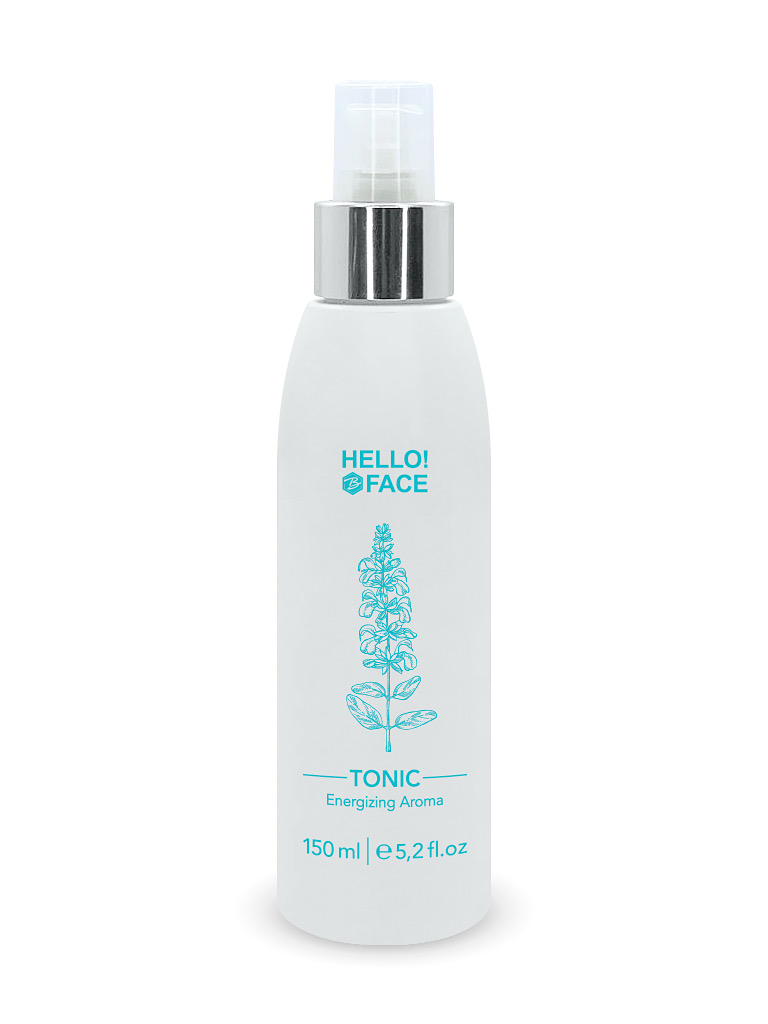 Hello!Face Tonic Energizing Aroma
Our facial tonic with seaweed extract and sage extract refreshes the skin, cleanses the face deep into the pores and frees the skin from impurities. There are benefits to using tonic water or toner: Refreshes the faceRemoves the finest residues from the skin (e.g. make-up residues, sebum, skin flakes)Optimises the skin's appearanceArea of application:FaceApplication:Spread a small amount on a cotton pad and gently rub over face, neck and décolleté previously cleansed with Hello!Face cleansing gel. Be careful not to apply too much pressure to the skin. You can then apply your chosen care productINCI: Aqua, Glycerin, Sorbitol, Polysorbate 20, Fucus Vesiculosus Extract, Salvia officinalis Leaf Extract, Phenoxyethanol, Ethylhexylglycerin, Copper gluconate, Mentha Piperita Oil, Rosmarinus officinalis Leaf Oil, Eucalyptol, Limonene, Linalool
Content: 150 ml (€19.93* / 100 ml)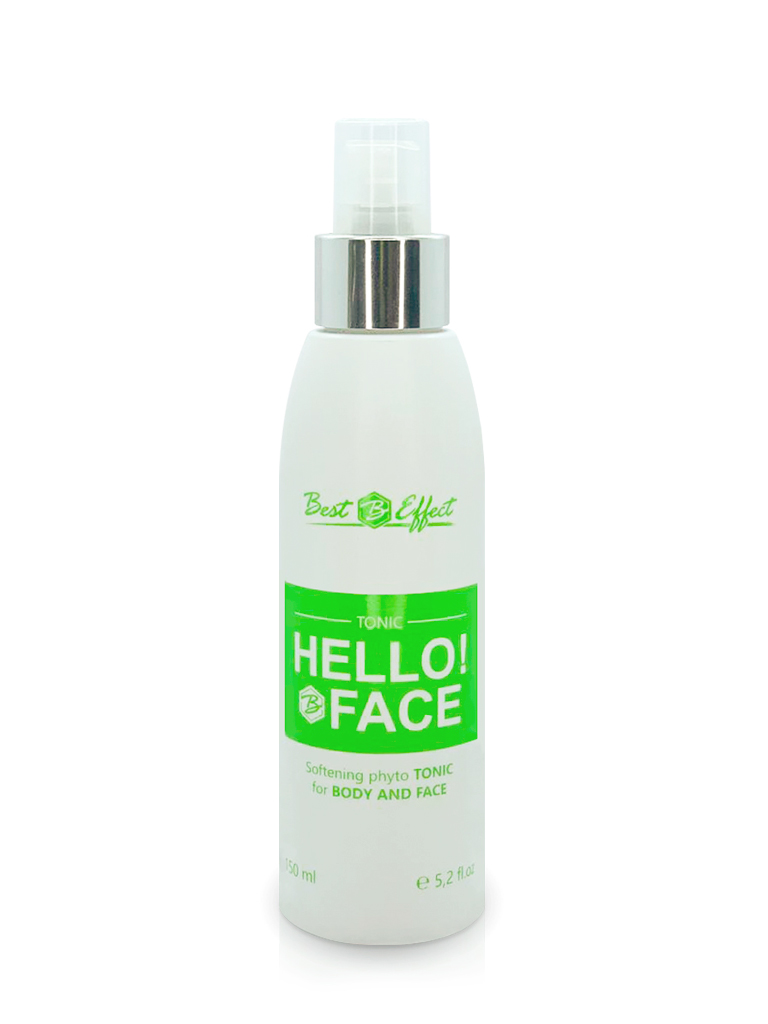 Hello!Face tonic water
Are you ready to feel your BestEffect firsthand?Our Hello! face tonic water gently removes remaining impurities. The skin is thus optimally prepared for the following care. A tonic is often referred to as the "gateway to the skin" for the active ingredients that are applied afterwards. It is therefore all the more important that the tonic correctly nourishes the skin, neutralizes and prepares it well for the absorption of the products.Our tonic water is far more than just an ordinary facial tonic. A good tonic water should be in every bathroom. Hello! face tonic w ater refreshes the skin, ensures its constant PH level and helps to soothe irritations.True to our motto, we use only the best active ingredients in our cosmetics. Due to the Ylang-Ylang oil extract this tonic water can have anti-inflammatory and antioxidant effects. The contained neroli oil is generally regarded as one of the best ingredients for human skin. The advantage of this oil in our product is that it can be used in the fight against wrinkles.Area of application:Faceapplication:Our tonic is wonderfully suitable for direct spraying both after cleansing and between for the freshness kick. Spray the tonic evenly onto the face from a distance of approx. 20cm, avoiding the eye area. When using a cotton pad, distribute a small amount on a cotton pad and gently rub the face, neck and décolleté previously cleansed with Hello!Face cleansing gel. Be careful not to exert too much pressure on the skin and avoid the eye area. Afterwards you can apply your chosen care. The tonic is also ideal for preparing the skin for the application of our popular Cellulite Control Cream and Liquid. Simply use the tonic-soaked cotton pad to gently rub the skin on the affected area, let it absorb well, and then apply the cream or liquid.Key Facts:Alcohol-free facial toner with essential oils, such as seaweed and silver oligo elementsCan quickly and naturally help reduce inflammation and swellingSuitable for hypersensitive skin and acneRefreshes the skin texture and contributes to the pH balanceIngredients: Aqua, Propylene glicol, Glycerin, Sorbitol, Polysorbate 20, Fucus vesiculosus extract, Malva sylvestris leaf extract, Phenoxyethanol, Ethylhexylglycerin, Lavandula angustifolia herb oil, Cananga odorata flower oil, Silver, Linalool, Limonene, Benzyl benzoate, Benzyl salicylate, Farnesol, Geraniol, Isoeugenol.
Content: 150 ml (€19.93* / 100 ml)