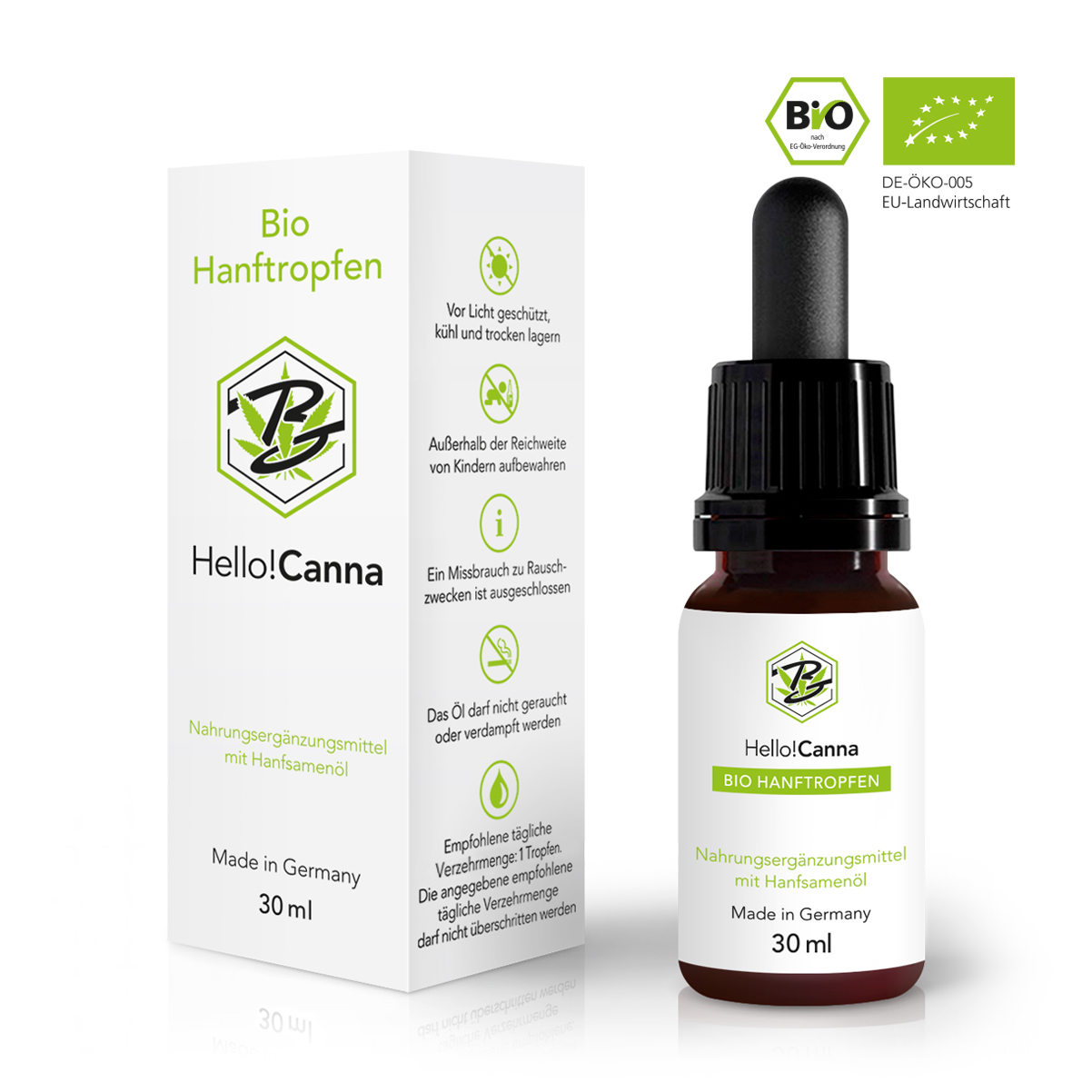 €89.90*
Content:
30
(€299.67* / 100 ml)
Available, delivery time 1-3 days
Product information "BIO - Hello!Canna"
Our Hello! canna organic hemp drops product is the perfect support for more well-being. Give your body important plant substances with the power of nature, which your body will thank you for. 
Hemp drops have been used successfully in medicine for a long time.
Application: For optimal absorption of the ingredients, we recommend that you use the pipette to drop the drops directly under the tongue, so that the oral mucosa can absorb them more quickly. 
Recommended daily dosage 1 drop. Do not exceed the stated recommended daily dosage. 
 Ingredients: 
Hemp seed oil*, natural hemp aroma*
*from organic production
Hemp seed oil per daily consumption: 
1 drop = 0.04 ml hemp seed oil
The ingredients may be subject to natural fluctuations, as it is a natural product. 
storage: 
Keep out of reach of small children. Store in a cool, dry and dark place. 
Note: 
Food supplements are no substitute for a varied and balanced diet and a healthy lifestyle. 
Not suitable for children and adolescents, pregnant women and nursing mothers. 
Manufactured for: 
BestEffect GmbH
Wörthstrasse 15
97082 Würzburg
www.besteffect.com
---
Man muss es einfach probieren und seine Erfahrungen damit machen, sowohl innen als auch aussen ... Super, vorallem Bio Zertifiziert... Top Produkt...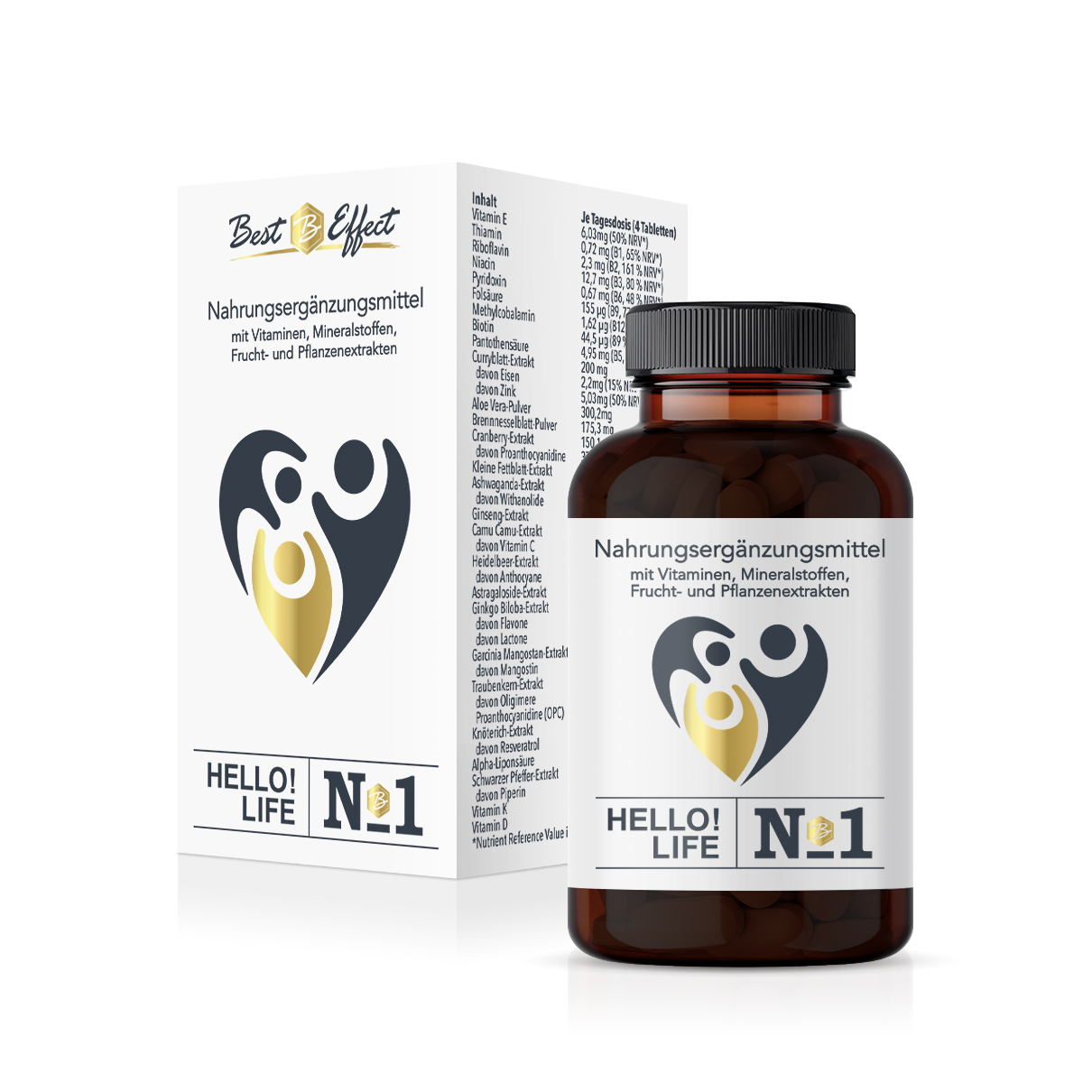 Hello!Life N1
A balanced diet usually provides you with all the important nutrients. But in our stressful everyday lives, it is not always possible to eat a balanced and wholesome diet everywhere and all the time. Our Hello!Life N1 is the all-rounder. Our product is rich in vitamins, minerals and fruit & plant extracts. It is rich in vitamin D, K, E and B12. But also in thiamine, riboflavin, biotin and folate.The contained vitamin E helps to protect the cells from oxidative stress and is therefore ideal for people who often suffer from stress. Vitamin B12 and D are generally good vitamins for cells, bones and the nervous system. Riboflavin helps maintain normal vision and the biotin it contains contributes to normal metabolism of macronutrients. Ingredients: Vitamin B Buckwheat Germ Powder Blend (Niacin, Pantothenic Acid, Riboflavin, Thiamin, Pyridoxine, Folic Acid, Biotin, Methylcobalamin) Aloe Vera Powder, Cultavit S1 Buckwheat Germ Powder, MSM Methyl Sulfonyl Methane, Curry Leaf Extract, Fat Powder, Nettle Leaf Powder, Cranberry Extract, Small Fat Leaf Extract, Ashwagandha extract, Ginseng extract, Camu Camu extract, Bilberry extract, Astragaloside extract, Ginkgo Biloba extract, Garcina Mangosteen extract, Grape seed extract, Knotweed extract, Alpha Lipoic acid, Natural vitamin E, Black pepper extract, Menaquinone microencapsulated, Lichen extract. Recommended dosage:Take 4 capsules daily with sufficient liquid.Do not exceed the recommended daily intake. Keep out of the reach of small children. Not a substitute for a balanced and varied diet and healthy lifestyle.Notice:Food supplements are not a substitute for a varied and balanced diet and a healthy lifestyle. Not suitable for children and adolescents, pregnant and breastfeeding women. td { padding-right: 15px; } Ingredientes Per daily dose (4 tablets) %NRV * Vitamin E 6,03 mg 50% Thiamin 0,72 mg B1, 65% Riboflavin 2,3 mg B2, 161% Niacin 12,7 mg B3, 80% Pyridoxin 0,67 mg B6, 48% Folsäure 155 μg B9, 77% Methylcobalamin 1,62 μg B12, 65% Biotin 44,5 μg 89% Pantothensäure 4,95 mg B5, 82% Curryblatt Extract 200 mg - davon Eisen 2,2mg 15% davon Zink 5,03 mg 50% Aloe Vera-Pulver 300,2 mg - Brennnesselblattpulver 175,3 mg - Cranberryextract 150,1 mg - davon Proanthocyanidine 37,5 mg - Kleine Fettblatt-Extract 150,0 mg - Ashwaganda-Extract 150,1 mg - davon Withanolide 7,5 mg - Ginsengextract 112,6 mg - Camu Camu-Extract 112,6 mg - davon Vitamin C 56,3 mg 70,3% Heidelbeerextract 112,6 mg - davon Anthocyane 11,2 mg - Astragaloside-Extract 112,6m g - Ginkgo Biloba Extract 112,6mg davon Flavone 27,0 mg - davon Lactone 6,7 mg - Garcinia Mangostan-Extract 112,6 mg - davon Mangostin 11,2 mg - Traubenkernextract 75,0 mg - davon Oligimere Proanthocyanidine (OPC) 71,3 mg - Knöterichextract 75,0 mg - davon Resveratrol 7,5 mg - Alpha-Liponsäure 75,0 mg - Schwarzer Pfeffer-Extract 3,7 mg - davon Piperin 3,5 mg - Vitamin K 37,5 µg 50% Vitamin D 7,5 µg 150% *Nutrient Reference Value im Sinne der LMIV Manufactured for:BestEffect GmbHWörthstrasse 1597082 Würzburgwww.besteffect.com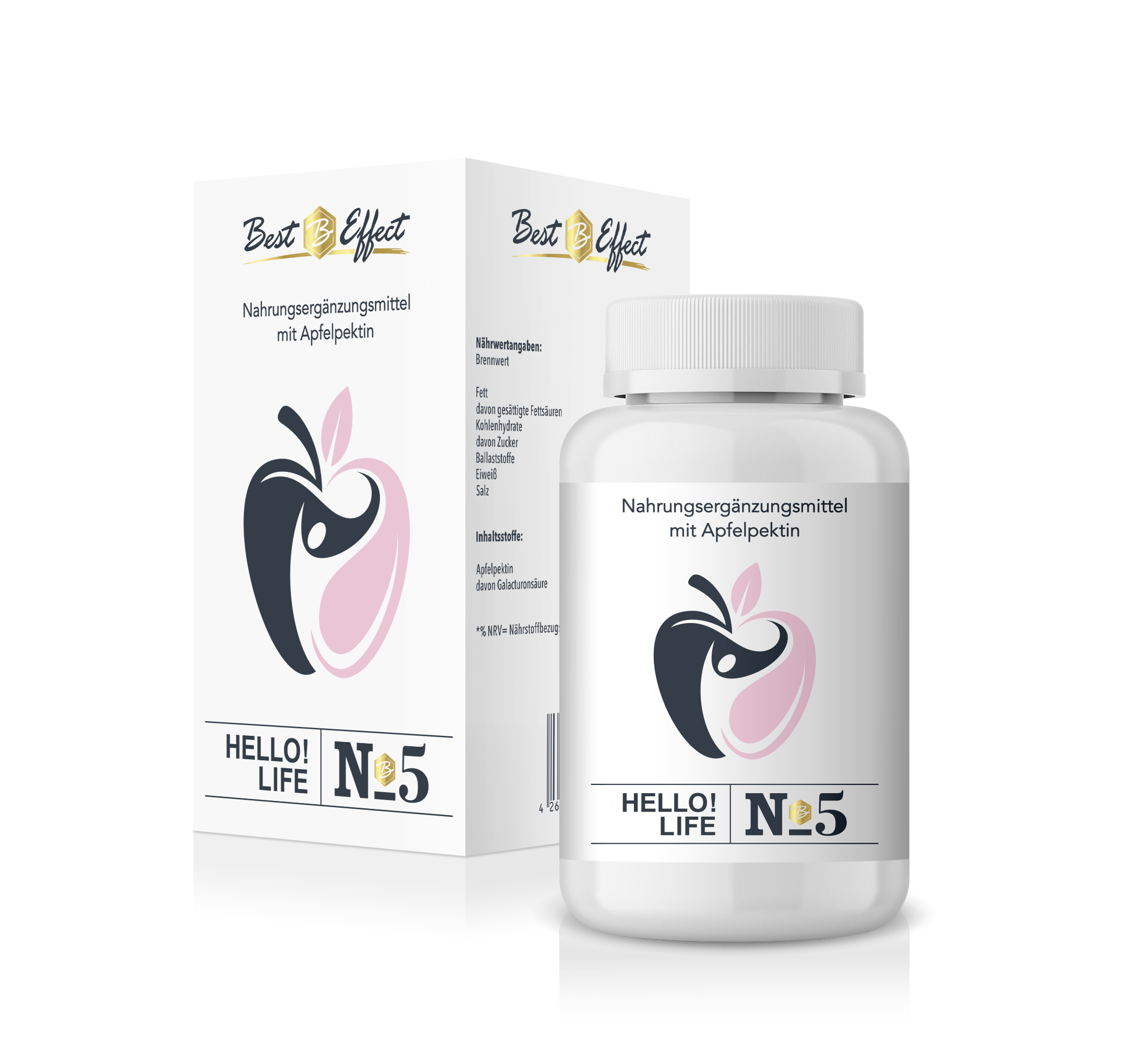 Hello!Life N5
The human intestine has and needs numerous intestinal bacteria to function properly. Intestinal bacteria are divided into two groups - the so-called Bacteroidetes and the Firmicutes. In an optimal intestinal flora, the two have an equal ratio to each other, i.e. there must be an equal number of both bacteria in the intestine. Often, however, overweight and stressed persons are affected by an imbalance of the intestinal flora. The Firmicutes bacteria often predominate. Hello!Life Apple Pectin is a good choice for Bacteroidetes - the bacterium that supports the elimination of sugar from the body. If the Bacteroidetes bacteria have sufficient apple pectin at their disposal, they multiply and settle in our body in the long term, thereby restoring an optimal balance in the intestinal flora. Ingredients:Apple pectin, hydroxypropylmethylcellulose (capsule shell).gluten-freeRecommended dosage:2 x daily 3 capsules before meals with plenty of liquid. Advice:Food supplements are not a substitute for a varied and balanced diet and a healthy lifestyle. Not suitable for children and adolescents, pregnant and breastfeeding women.td { padding-right: 15px; } Nutritional information Per 6 capsules pro 100 g Brennwert 37 kJ 794kJ 9 kcal 196 kcal Fett 0,1 g 1,3 g davon gesättigte Fettsäuren 0 g 0 g Kohlenhydrate 0,3 g 5,9 g davon Zucker <0,1 g 0,3 g Ballaststoffe 3 g 74,0 g Eiweiß 0,2 g 3,4 g Salz 0 g 0 g Ingredientes Per 6 capsules Apfelpektin 3,90 g davon Galacturonsäure 2,54 gContents per 6 capsulesApple pectin: 3.90gthereof galacturonic acid: 2,54gProduced for:BestEffect GmbHWörthstrasse 1597082 Würzburgwww.besteffect.com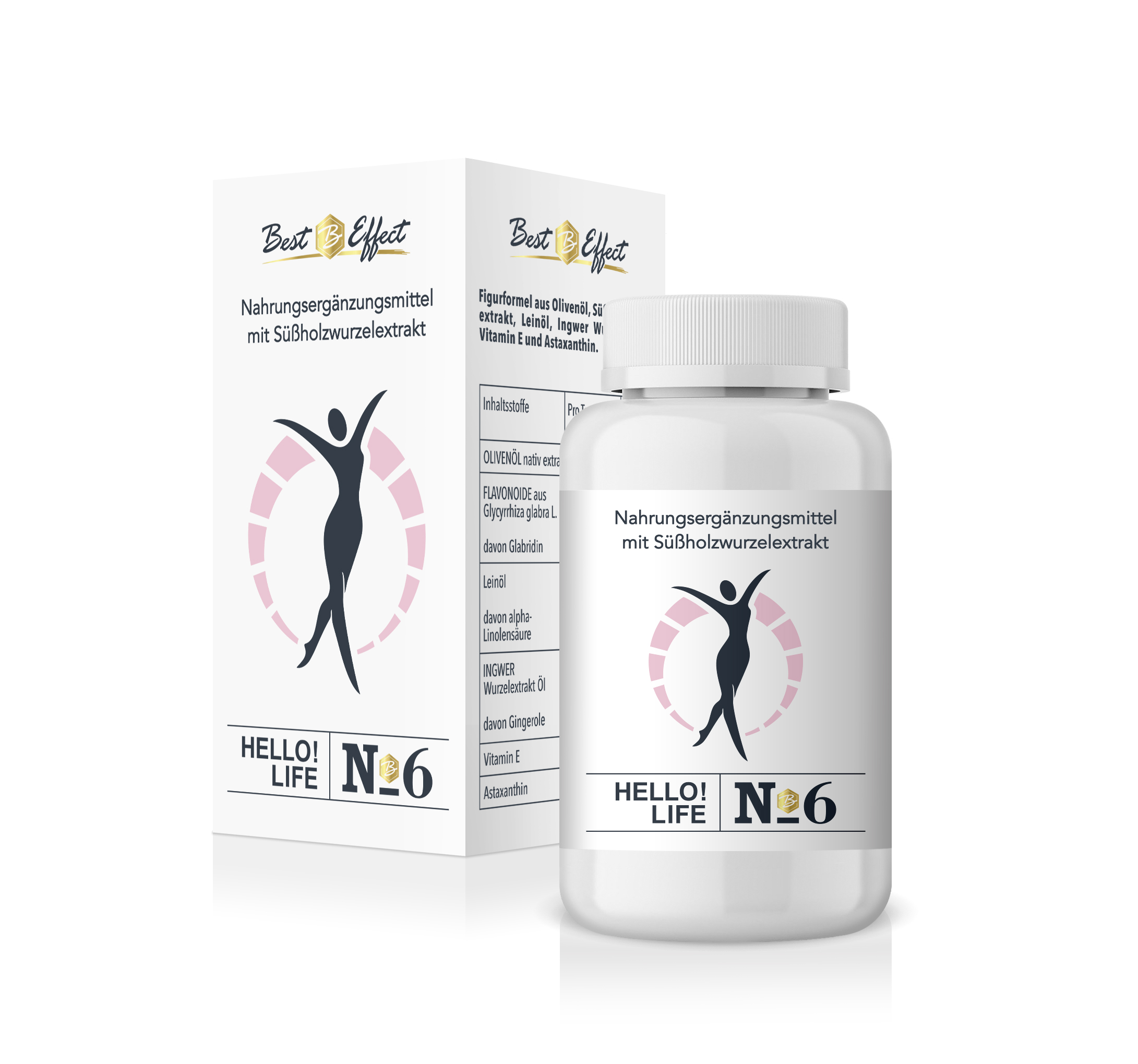 Hello!Life N6
Hello!Life supporter - figure formula made from olive oil, liquorice root extract, linseed oil, ginger root extract, vitamin E & astaxanthin. gluten-freeVitamin ELinseed oilIngredients:Extra virgin olive oil, linseed oil, ginger root extract, vitamin E, astaxanthin.Recommended dosage:Take 1 capsule 1 x daily with sufficient liquid. Shelf life:Use within 3 months after opening the packaging.Important information:Food supplements are not a substitute for a varied and balanced diet. Ensure a healthy lifestyle.Do not exceed the recommended daily dose. Keep out of reach of small children. The product should not be consumed by pregnant women, nursing mothers, children and adolescents.The product should only be consumed under medical supervision if taking prescription medication.Contents per capsule:Olive Oil extra virgin: 255.2mgof which glabridin: 100mglinseed oil: 100mgof which alpha-linolenic acid: 50mgINGWER root extract oil: 20mgof which gingerols: 5mgVitamins E: 12,64mgAstaxanthin: 0,5mgIngredients Per daily dose (1 capsule) %NRV * (1 Kapsel) Olivenöl nativ extra 255,20 mg - Flavonoide aus Glycyrrhiza glabra L 100,00 mg - davon Glabridin 3,00 mg - Leinöl 100,00 mg - davon alpha-Linolesäure 50,00 mg - Ingwer Wurzelextrakt Öl 20,00 mg -- davon Gingerole 5,00 mg - Vitamin E 12,64 mg 105% Astaxanthin 0,50 mg - *Nutrient Reference Value im Sinne der LMIVProduced for:BestEffect GmbHWörthstrasse 1597082 Würzburgwww.besteffect.com